John Deere 9620RX Toy Model Winner 7119 Building Blocks Review
John Deere has made a name for itself in the agricultural field. The 9620RX, as a top-tier, high-quality machine is John Deere's most powerful and largest crawler drive tractor.
Now you can happily bring the one of most expensive tractors home by shopping in My Building Blocks Shop. the size of model is huge: 23cm x 41cm x56 cm. There are two boxes and a manual in the package.
There are 5 big bags for model building, 6 bags for power parts, and 2 stickers in the box
First Step: #1 bag is for 4 triangle tracks, it enables the tracker to run smoothly along with all kinds of terrain. The rubber studs for the chains are simply a hit.
Step 2 is the bottom body of the vehicle, using bag #2 and bag #3
Step 3: Bag#4 and Bag #5 to build the three-point hitch and a Command Center and John Deere Disc Harrow, which makes this vehicle super productive.
Step 4: Power function, The giant locomotive creates a lot of space to place the battery
The angle of the steering wheel is adjustable. The steering of this 9620RX is completed by using the M motor to drive the push rod, and the front and rear parts have a certain weight, so the steering speed is not fast.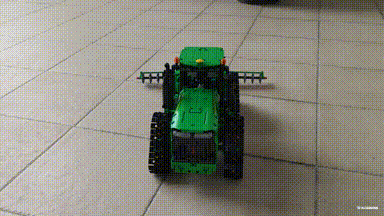 Other details: Foldable Disc Harrow
Overall this set is a great build. In terms of power function, there is actually nothing special about this set, and the performance is also up to the standard. The Heavy tractor as such is extraordinary with its tracks. All works perfectly fine.